What a day! It all started with a couple of inches of snow outside our window…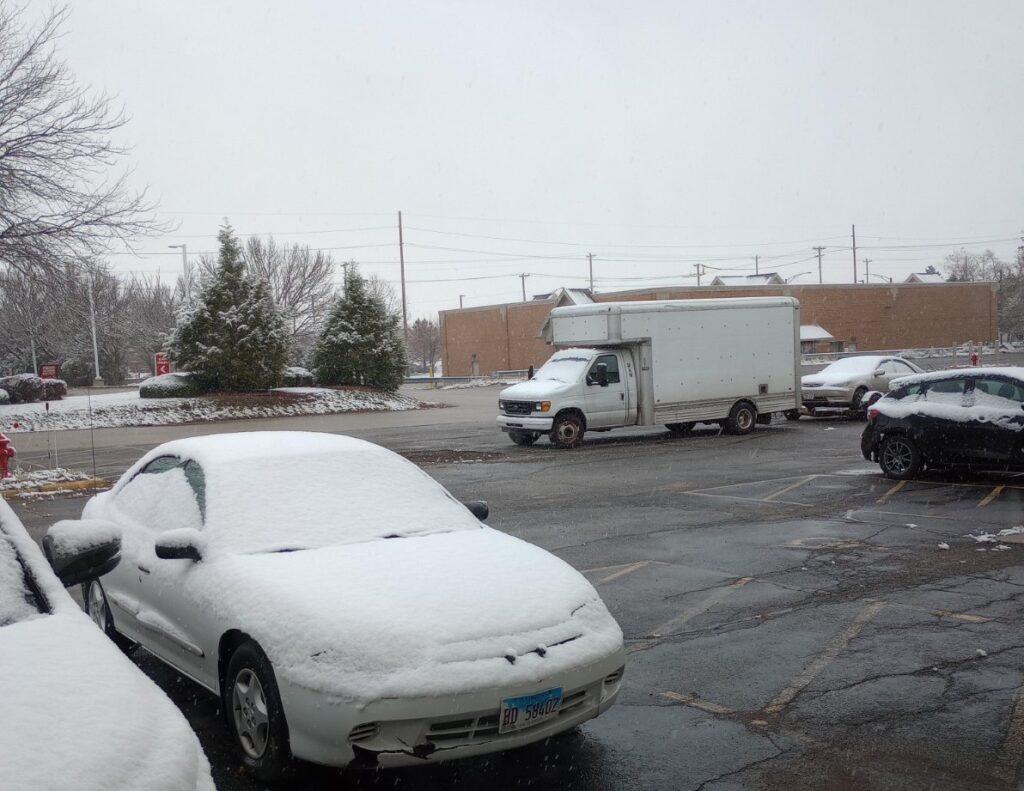 This was the view outside our window this morning. Mark went out to the truck to get something and while he was at it, he noticed that he'd left our refrigerated cooler plugged in all night. The truck battery was dead. We called our road service company and they said it would take 60-90 minutes for someone to come out and jump the truck battery. Checkout from the motel was supposed to be at 11:00. We finally went out to the truck around 11:00, and shortly after that, the road service guy showed up.
He tried to get the battery going, but it was so cold out that it didn't want to start. Finally, after several minutes, it did and we cheered!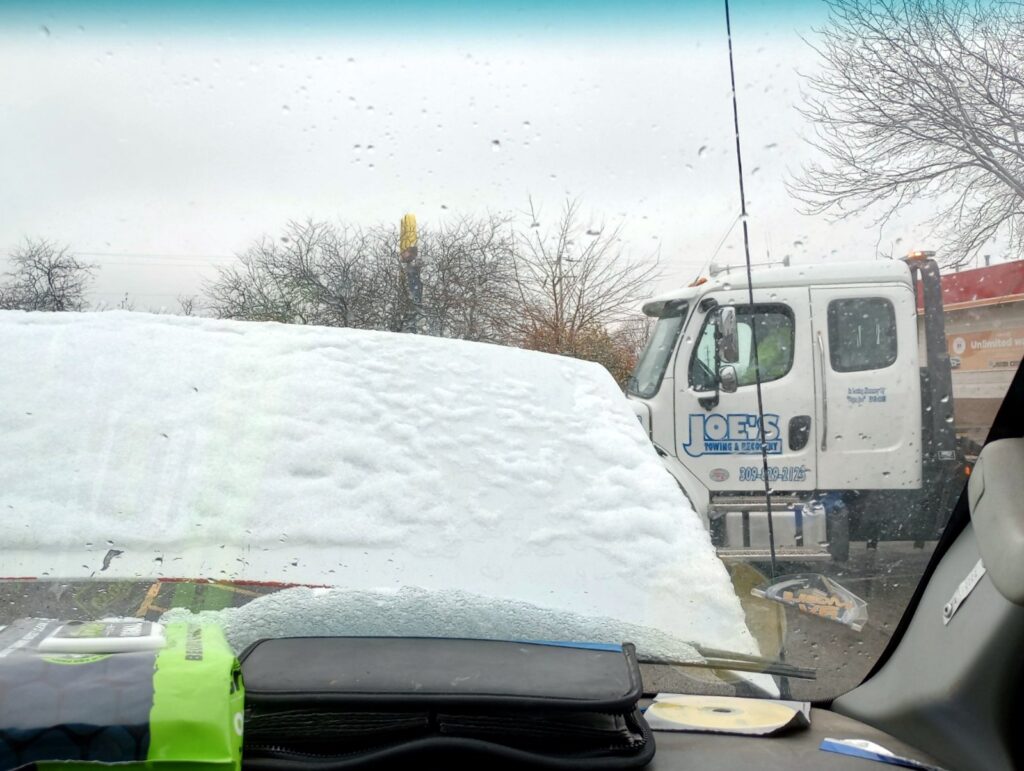 Mark eased out of the parking lot and we got on the highway heading south. About an hour down the road, a car pulled up next to Mark's side and motioned for him to roll down his window. When he did, they told him there was smoke in the back. Mark and I had a moment of deja vu, fearing that something was on fire. He pulled over to the side of the highway and jumped out to investigate. Fortunately, it wasn't a fire yet, but I'm guessing it could have turned into a fire if we'd gone much further. The smoke was coming from the brakes on the tow dolly. When Mark touched the hubcaps, they were hot, so we sat there beside the highway for a while to let them cool. Then Mark pulled out quickly onto the highway and we turned around and went back 22 miles to a Big O Tire store to see if they could help us figure out the problem.
When we got parked near the store, the brakes were loose and the hubcaps were cold. Mark figured out what had happened. The brake system on the tow dolly is a surge brake system. When you are going down the road, the tongue of the tow dolly pulls forward a bit which releases the brake. When you stop, the car on the dolly pushes it forward which presses the brakes to stop. When Mark eased out of the parking lot this morning, the brakes were frozen and there wasn't enough pressure to free them. We were essentially dragging the tow dolly behind us. When Mark pulled out quickly onto the highway, the brakes loosened up and everything rolled as it should. However, the brake fluid leaked out, so the tow dolly brakes aren't currently working. Mark is going to have to look at them in the morning to see if he can fix them. We're on flat plains now, but when we get to New Mexico and Arizona, we'll be going through some mountains so we'll need to have those brakes working.
While we were stopped, we got some lunch and then found an O'Reilly's where he got a battery jump box in case our battery dies again. He brought it into our room tonight to charge it, but it needs to be charged for 36 hours before it will be full. It may take us another couple of nights to get it fully charged.
So after all that, Mark tried to get back on course, but somehow we missed something and went out of our way for a while. I finally pulled up a map on my phone and we managed to get back to the highway. By this time, we knew we weren't going to make it as far as we'd hoped. We were hoping to get to Springfield, Missouri, but we couldn't make it there in a reasonable amount of time. Mark suggested I start looking for hotels around St. Louis, but the rooms there were out of our price range, so I started looking halfway between Springfield and St. Louis and found Sullivan. The prices were better and I made a reservation for a motel that said they charged $5 per pet and the total was going to be $70 with taxes. I set a course for our motel.
My GPS took us to a really nice hotel and I went in and said that we had a reservation, but they couldn't find us in their system. I couldn't find a reservation confirmation in my emails either. Turns out I had used Mark's email address, so when I took his phone back into the lobby to show them our confirmation, it turned out to be a motel a little further down the road. I finally got into the right lobby and in the course of completing my reservation, they told me that it was $10 per pet and our price would be $80. I told them that that wasn't what it had said when I made the reservation online. They told me they had just moved to this location and hadn't had a chance to change things yet. I told them it was false advertising, but they still charged the $80 so I grudgingly paid. This is Americas Best Value Inn. Don't be fooled by the name! I will admit it's a fairly decent place, but I don't know that I would have chosen this place over another if I had known what the real price would be.
At any rate, we were exhausted and just wanted to stop and get a night of rest, so here we are!