I was so proud of Tucson! The desk clerk last night was skeptical about having a German Shepherd in the hotel, but Tucson barely made a peep in the room. That's not to say she didn't try, but every time she started to growl or acted like she was about to bark, we shushed her and she obeyed!
This morning, I woke up with a migraine and got sick, but we had breakfast in the breakfast lounge at Days Inn where we had spent the night and I felt better. Then we hit the road. The weather wasn't too bad. It wasn't even as cold as I had expected for part of the day and there was no snow.
Our first stop was at Walmart in Green Bay where Mark got me some Excedrin Migraine, and while he was in the store, I called my BFF from high school and sang Happy Birthday to her. She was diagnosed with breast cancer in August, but they aren't going to start therapy on it until December. She is still recovering from a surgery she had last May.
We stopped again around noon to get gas and I went into the KwikTrip and got us some lunch. Economical and fast! When we crossed the border into Illinois, we stopped at the welcome center to use the facilities. I tried to wash my hands and none of the 3 sinks had running water. I asked a woman who walked in if she knew how to make the water come out. The faucets were the type that were supposed to sense motion. She tried all 3 and couldn't get them to work either. I had already put soap on my hands, so she went out and asked a woman who worked there if the water was off. The woman tried to reset the switch, but that didn't help, so she asked the handyman to come in and look at it. He simply hit a red reset button on the electrical outlet and the water started working. When I finally came out, Mark said, "Oh, you were the woman with soap on her hands!" I think if I ever run into that problem again, I will try to see if there is an electrical outlet near the sinks with a red reset button!
I don't like the camera on my cell phone. It doesn't take very good pictures running down the road, especially not of sunsets.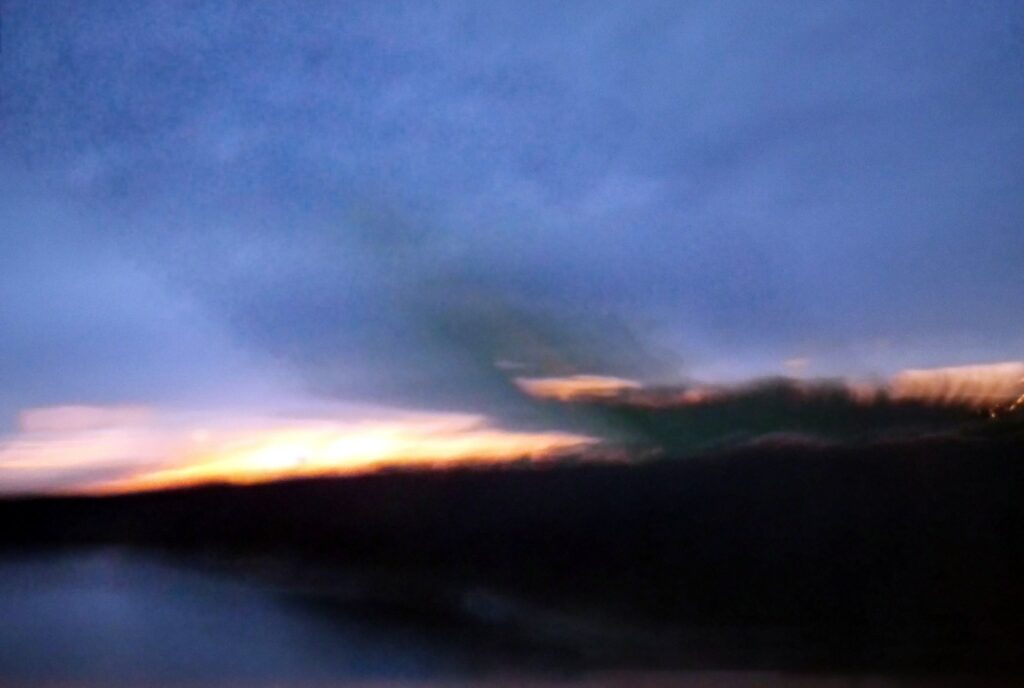 I didn't get any pictures during the day because I was busy reading a mystery called Wildcrafters to Mark. It's a Pacific Northwest mystery. The land is pretty flat at this point anyway. It will be more interesting to photograph as we get further south.
Both Tucson and Kimba have been kind of upset about this new style of travel. They are used to either being in the house or being in the RV. To be in the back of a truck van and then spend the night in a motel is not to their liking. They haven't been eating as well as usual, and Kimba keeps trying to hide. When we arrived at our motel tonight, Motel 6, we opened the truck door and kept calling her name but couldn't find her. I was beginning to worry that maybe she had gotten out somewhere and been left behind. Mark finally found her in the folds of the quilt we brought from the RV. I guess she was trying to stay warm. It's supposed to snow tonight.