Last week, I got word that my job at the Ellison Bay Visitor Center isn't going to be happening this year. The economy in Door County is based on tourism, but events that involve fifty or more people gathering have been canceled for this summer. My boss at the visitor center is going to man the center by herself because there probably won't be very many questions about events or things to see and do.
On Monday of this week, I got word that my job as a docent at the Noble House won't be happening either. There are too many small spaces and it would be difficult for people to keep a proper distance from each other. Also, the exhibits couldn't bear up under the kind of ongoing cleaning that would have to take place.
I have registered for unemployment for the first time since Mark and I began Workamping in 2011, and I've been considering options. Should I start an online fabric store? Apply for a work from home job? Begin promoting my freelance editing business again? I'm beginning to push on doors and pray the right ones open.
Mark isn't having any such problem. His phone has practically been ringing off the hook from customers wondering when he'll be back in Door County and able to work on their RVs. The governor of Wisconsin has said that anyone coming in from out of state has to self-quarantine for two weeks until May 26th. Campgrounds are allowed to open on May 15th but there are heavy regulations: Public restrooms are to remain closed, RVs will need to be self-contained, only family members may be in close proximity to each other. Part of the thrill for a lot of RVers is to meet new people, so this may be difficult for some.
Mark and I are planning to leave Arizona on May 18th. For those in the Pacific NW, that is the anniversary of the last big eruption of Mt. St. Helens. Just a bit of trivia for the rest of my readers!
---
Today, Mark worked some more on pruning the trees around the saguaro in the churchyard. Pastor Adam told us that the way the cacti grow up under the trees, the trees are called "nurse trees".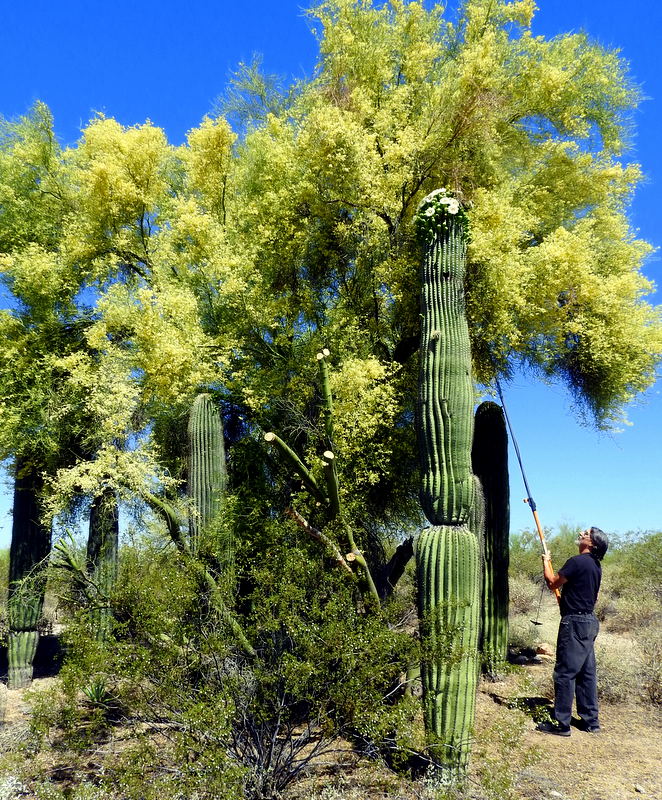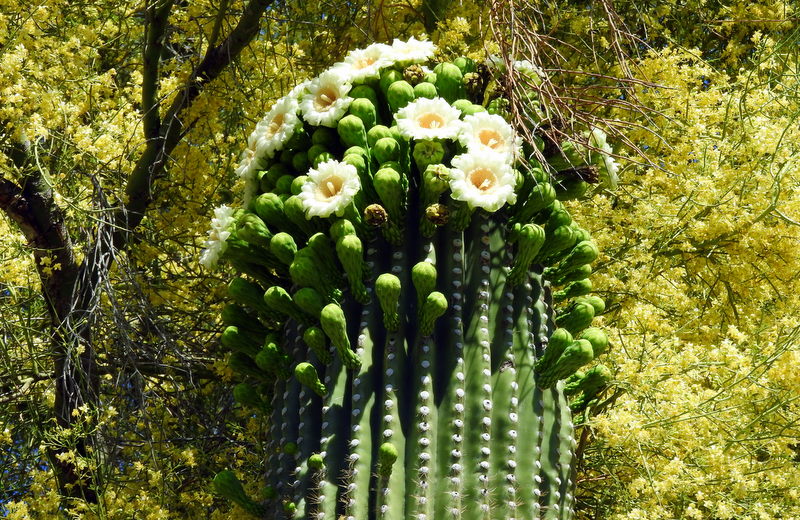 I went to bed with a headache on Tuesday night, fought it all day yesterday, and had it really bad today. I spent most of the day in our darkened bedroom. These two shots were the only time I went outside, and it was too hot and bright for me. Originally, I was supposed to work at Block Advisors today, but fortunately, my boss texted me and asked if I could come in tomorrow instead. God is good!
I tried everything I could think of to get rid of my migraine including using Mark's tens unit and sending him to the store to look for peppermint oil. I'm doing better tonight, although my shoulders still feel a little tight and my skin is sensitive to the touch. I managed to stumble out of the bedroom around dinnertime and Mark was kind enough to go get us a couple of frozen dinners so I wouldn't have to cook. I had a tahini and rice power bowl and he had a couple of veggie rolls and some vegetable fried rice. Even when we buy frozen dinners, we try to eat healthily.
After resting all day, I'm not particularly tired, but since I'll be working tomorrow, I guess I should go to bed. Before I go, I'd like to say for the record that May 9th is my birthday. I'd appreciate any greetings you'd like to send my way!