We got slammed last weekend (Black Friday through Cyber Monday) to the point where I was wondering if I could do this.  At least half the trees we had set up disappeared.  We had a couple employees knocking them out as fast as they could, but unfortunately they were setting them up crooked.  Mark finally took over cutting and drilling and setting up trees, along with flocking.  There was no way he could catch up by himself.
Today the office sent a whole crew of guys to get our backlog of trees set up for us and to bring more trees.  We hired a new person this morning and called in our best employee and asked the crew to teach them the correct way of cutting and drilling the trees so they will stand up straight.  They watched the crew and then had opportunity to do several trees themselves under the watchful eye of the experts.  Hopefully now it won't all be on Mark and we'll have sell-able trees.
I have been in my booth all day every day.  I even eat my meals in there.  Maybe once or twice a day Mark has a chance to give me a potty break.  When the day is over and we get to come home, there is still all the book work to do.  We haven't been to bed before midnight since we opened, and most of the time it's been closer to 1:00am.  I'm having a hard time getting the books to balance.
Today a guy and his family came up to the booth to pay for a tree.  I thought he looked kind of familiar, but I chalked it up to the type looking familiar.  He was wearing a cowboy hat and he was lean and rugged looking.  All of a sudden our brand new employee got this awed look on his face.  There was a bit of a ruckus and I asked the customer, "Should I know you?"  He shrugged his shoulders and walked away.  Turns out he's a famous movie star.  His name is Thomas Haden Church and I have actually seen him in a couple westerns.  He apparently lives here in Kerrville!  Here's his picture: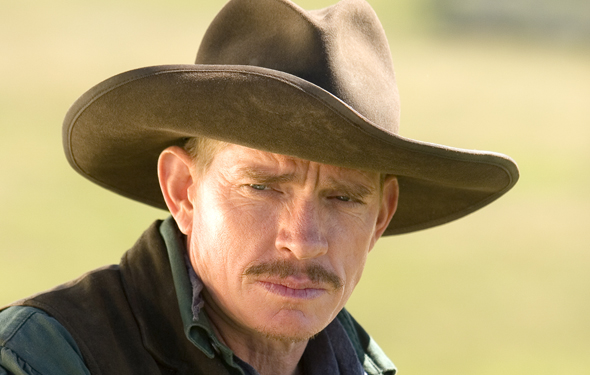 Our new employee was walking on air the rest of the day!