We were waiting to be assigned a couple of J-1 students, some have yet to arrive, when I went to Piggly Wiggly and started a conversation with my Jamaican cashier. I asked if she was signed up for an American Connection family and she said she had just registered but she didn't know what it was about. I explained what American Connection families do for the students who arrived here, and she asked if we'd be her family.
Her name is Mackayla. I wrote to the person at Bridges who is in charge of assigning students to families and she said we could have Mackayla and that she would look for another student for us. Mark wasn't with me when Mackayla asked us to be her family, so I described her to him and the next time he went to the store, he told her who he is. Her roommate was right there and she said she wasn't registered yet, but she asked him if we could be her family as well. I wrote to the Bridges woman again and she said she'd get Javier (pronounced Jah-VEER) registered and we could have her too.
Mark and I were going down to Sturgeon Bay to get haircuts this afternoon and Mackayla was off work, so we asked if she'd like to come with us and go shopping at Walmart. All the kids prefer going down there for groceries because it's less expensive and there's more variety than our little Piggly Wiggly store. Even though Mackayla and Javier work at Piggly Wiggly and I would think they'd get a discount on their groceries, they still said it's very expensive. When Mackayla came out of Walmart, it looked as though she had done her shopping for the month!
When we dropped Mackayla off to put her groceries away, we said we'd be back later to take them on a picnic dinner. Our Liberty Grove Historical Society was holding a fundraiser fish boil tonight, but I didn't get our reservations in soon enough so Mark and I bought picnic food and grabbed a blanket and went back to pick them up. We took them to the fish boil anyway so that they could see what it's like and they were impressed. It's quite a show!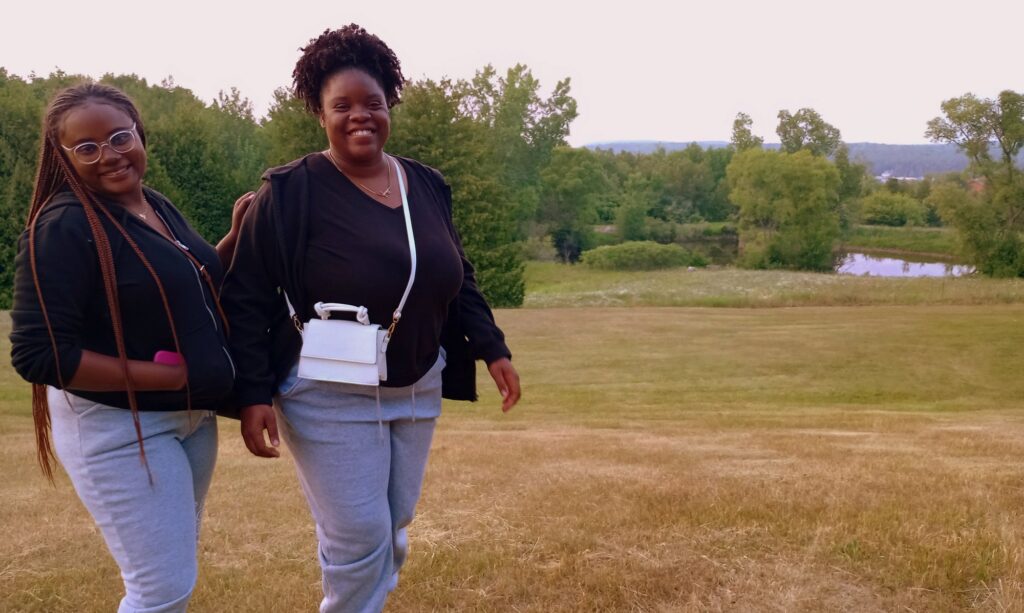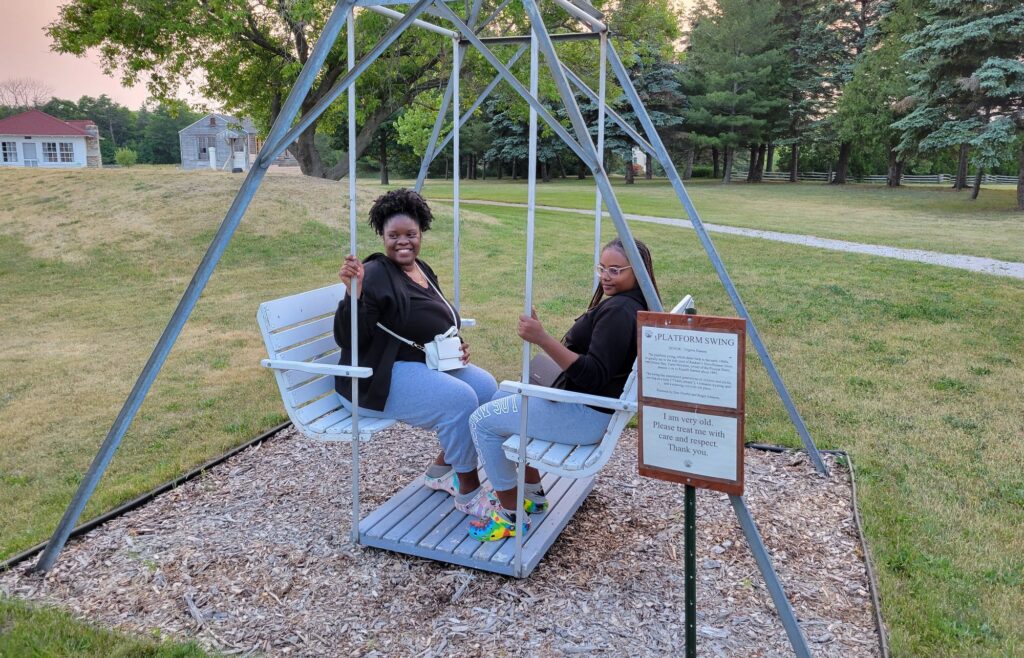 As we were walking around the grounds, we saw that the sun was a bright orange color because of the smoke from the Canadian wildfires, so we took them to Door Bluff County Park to watch the sun set, a favorite pastime in Door County.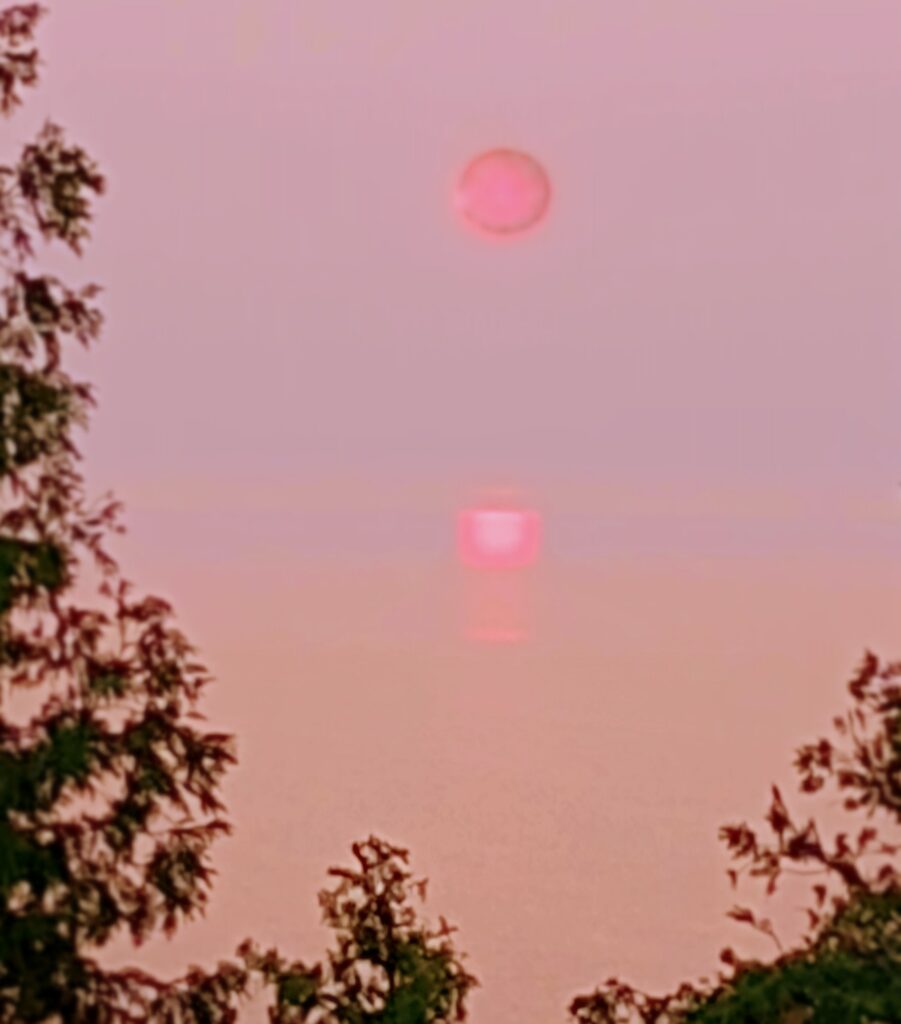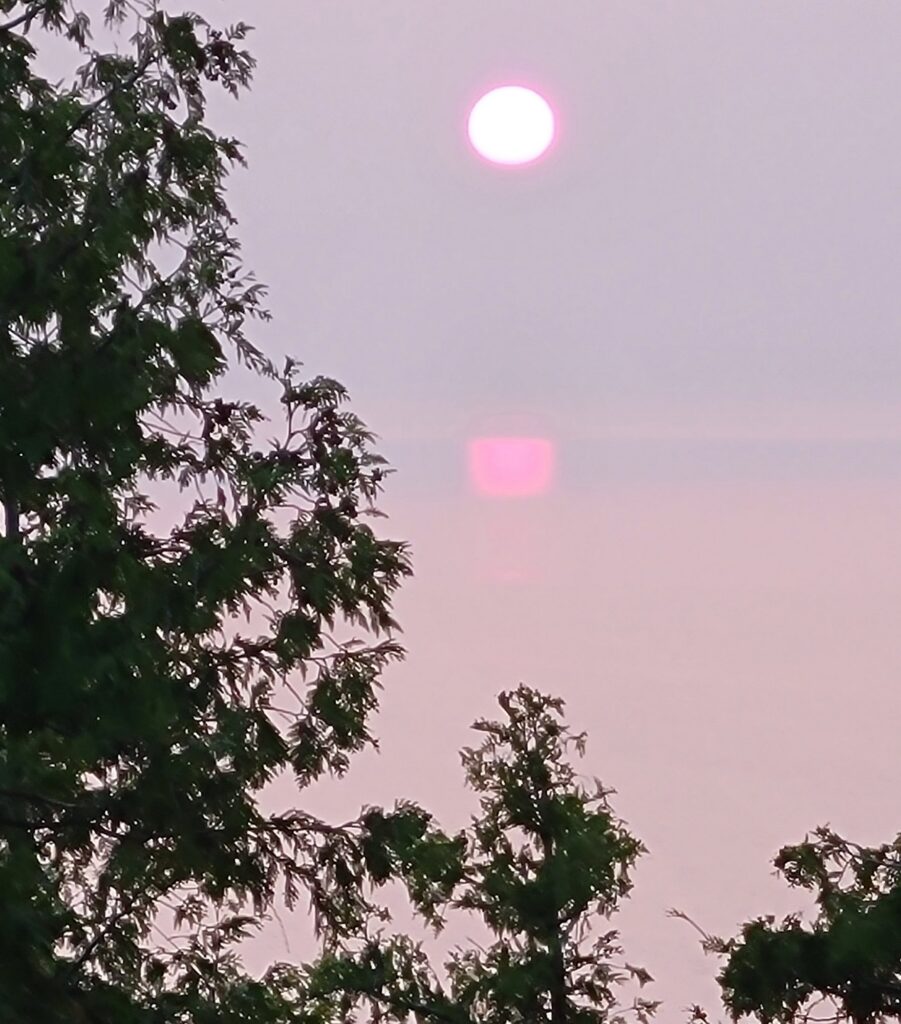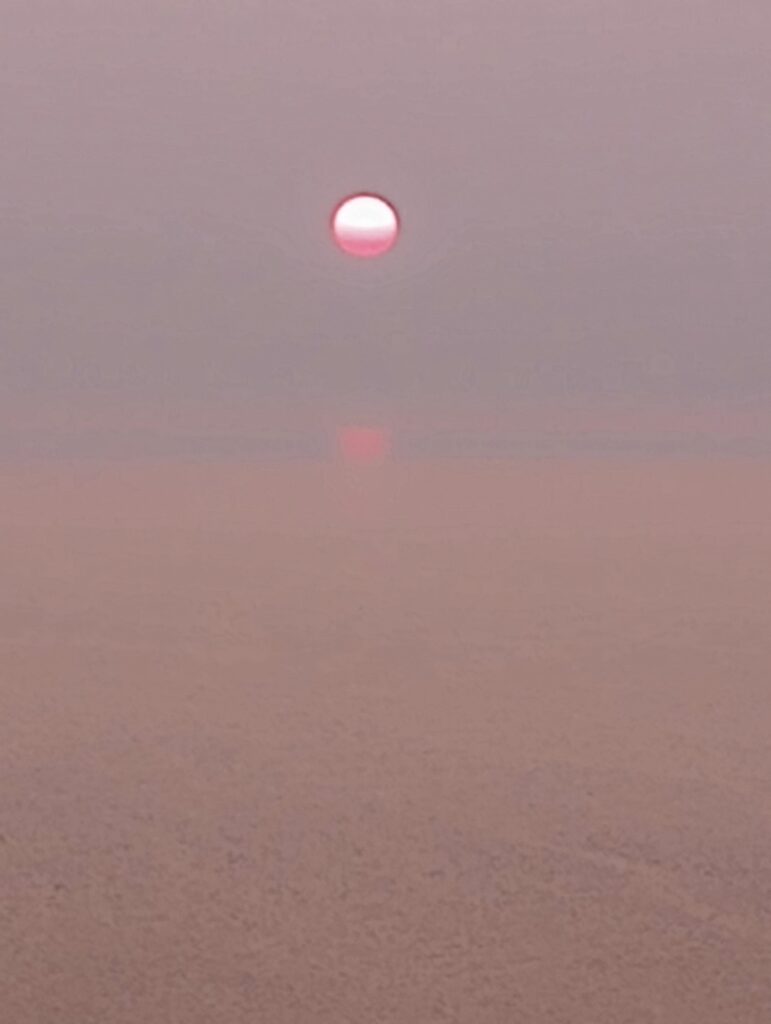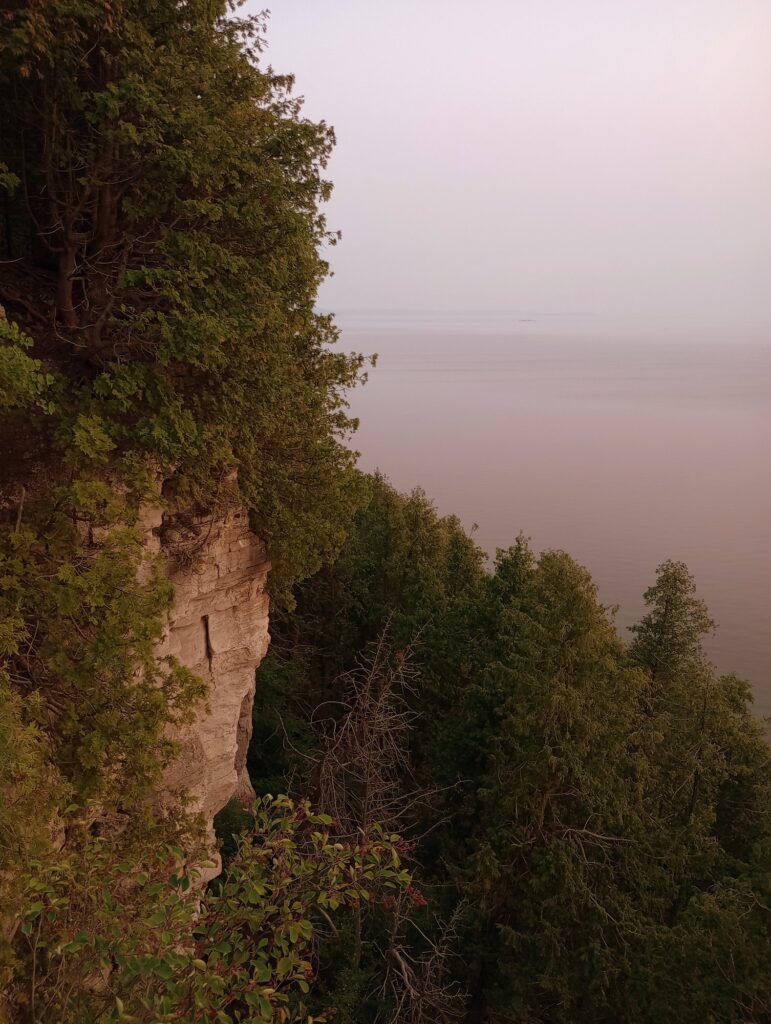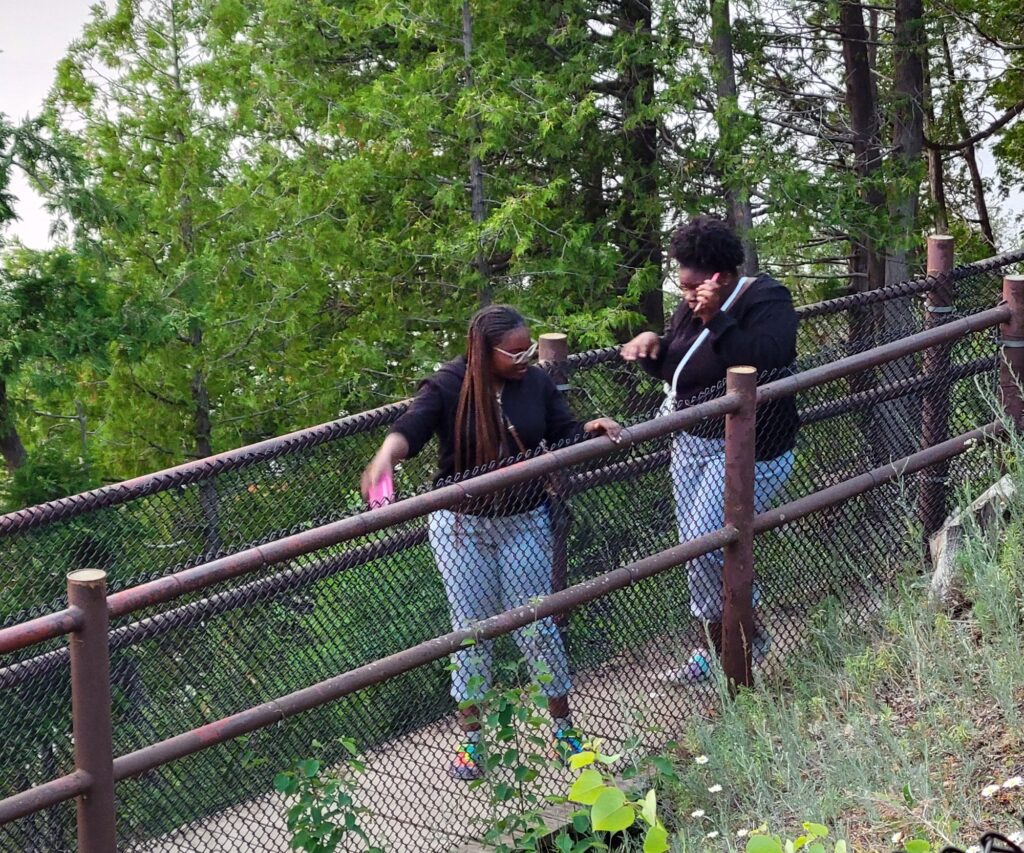 After the sunset, we took them through Ellison Bay and up to Gills Rock, then down the windy road to Northport where they saw their first deer! Then it was pretty obvious they were tired, so we took them home. They both commented on how beautiful it is here. They were so happy to be seeing more of Door County than they would have if they hadn't signed up with Bridges. Life has been pretty boring for them in the month since they've been here just working 7 days a week (between 2 jobs). We like them and we had fun with them today. The summer is always more interesting when there are students from other countries and we get to take them around and show them the sights!
The first time Mackayla texted me, she started out with "Dear Mr. and Mrs. Fuller". I wrote back and told her that she can call us Denise and Mark or Mom and Dad, so she opted for Mom and Dad. We enjoy "widening the pegs of our tent" and having kids from all over the world!