This morning, it occurred to me that we have kept studded tires for the pickup truck in my father's garage for the last several years. Since we no longer have the truck, we should try to sell those. I talked with Mark, with Dad, and with Les Schwab where we bought the tires. Les Schwab won't buy the tires back, but they did give me all the specs on them so we can try to sell them ourselves. That was only one of several pieces of business I had to take care of this morning.
I also contacted the company that is supposed to get a copy of our truck title from Wisconsin DOT. IAAI had sent me some paperwork to fill out and mail back to them granting them permission to request the title. I filled it out and sent it last Wednesday, the day before Thanksgiving, with overnight service. My insurance company has been held up from settling with us because they haven't gotten the title yet. When I called IAAI and explained to the woman there that I had mailed the paperwork last week, she looked at the tracking number and could see when it had been stamped at the post office, but she couldn't see that it had made any progress from there. She said she will look into it more deeply to try to find out where it is.
The last piece of business I needed to take care of is my application for the job at Block Advisors in Tucson where I have been working for the last couple of years. I had already filled out the application and submitted it some time ago, but it was sent to the wrong office. A couple of weeks ago, I got a call from a manager in an H&R Block office, and when I politely said that I had meant to apply for the Block Advisors office, she said I wasn't the only one from there whose application had ended up on her desk. Apparently, we were given the wrong office code to apply to.
A few days ago, my boss, Victoria, sent word out to us receptionists saying that she had gotten the proper office code and could we please reapply? It has taken me several days to figure out how to get back in, but this morning, I was finally able to get back in and reapply. There has not been one year since I started working for H&R Block/Block Advisors when there hasn't been a problem with my application. At least this year, I know I'm not alone!
I didn't get over to Mom's house until about noon. From there, I took a shower, did laundry, and got some groceries. In the meantime, Mom had had a vacuum cleaner that felt like it weighed 50 lbs (only a slight exaggeration), and last week, she bought a stick vacuum that needed a little assembly, so I helped her put it together and she tried it out.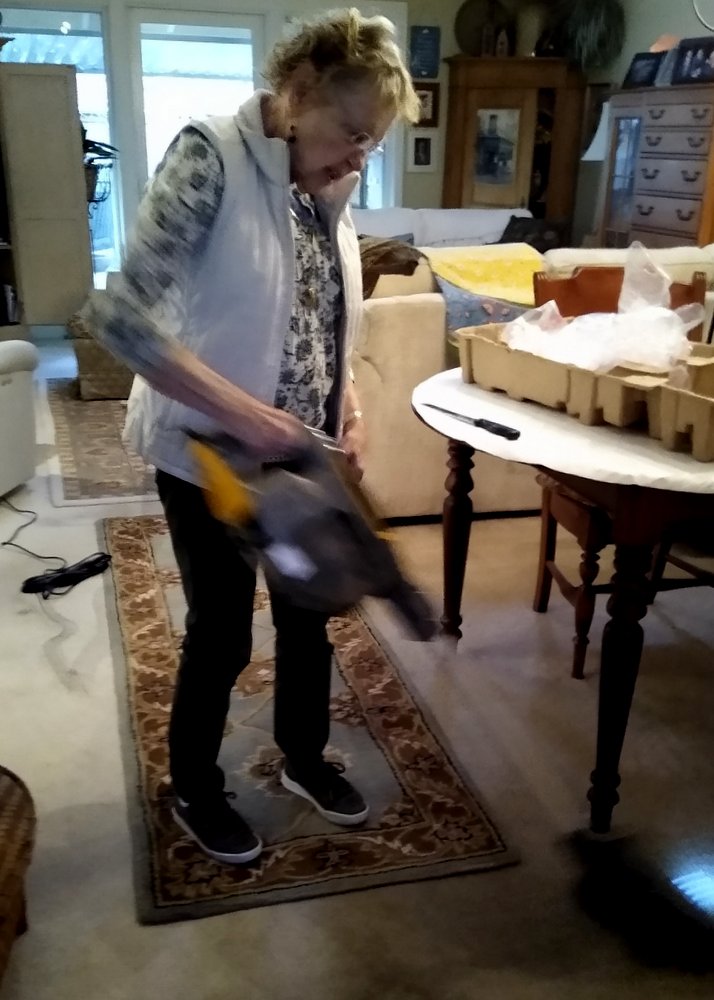 I also did some sewing and finished a charity quilt that I had started in Wisconsin. Finally, we got to play one game of Scrabble before Mark got back from work. He had bought himself some Epsom salts because he was so sore from work, and he took a hot soak in Mom's tub. Then he took a shower and got dressed and we quickly ate some soup before taking Mom out to a movie.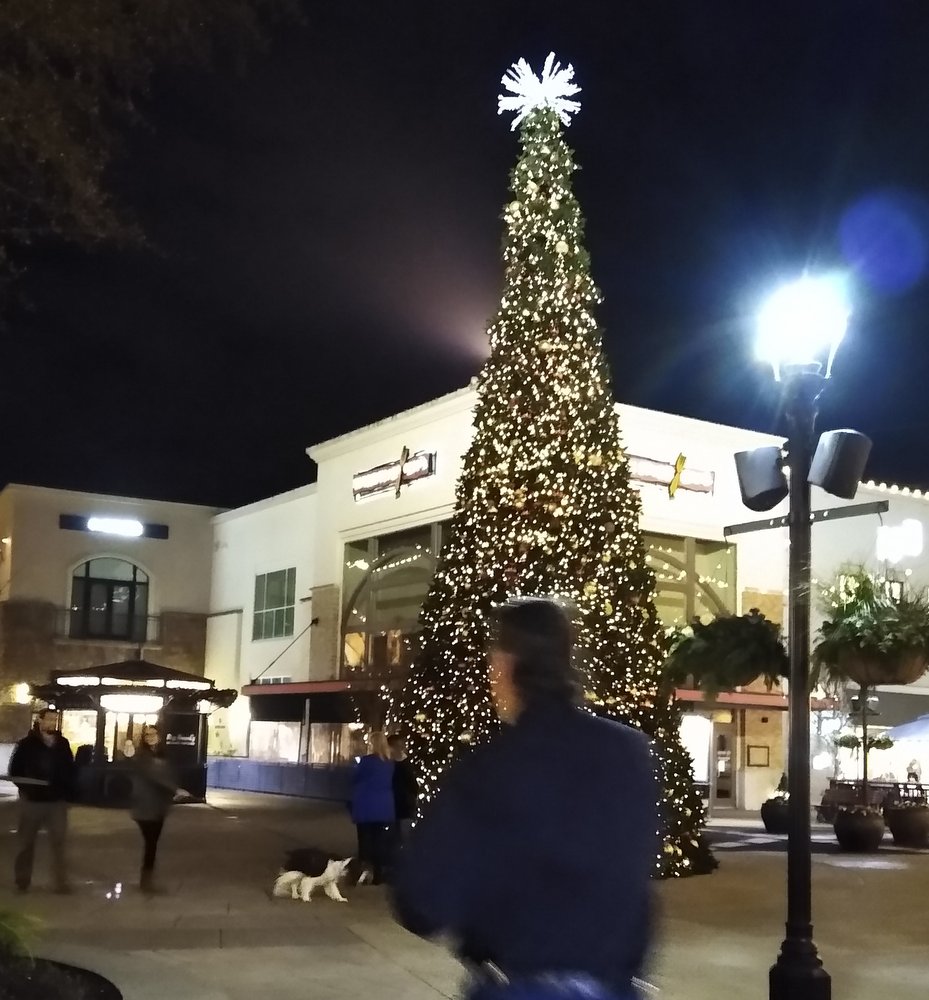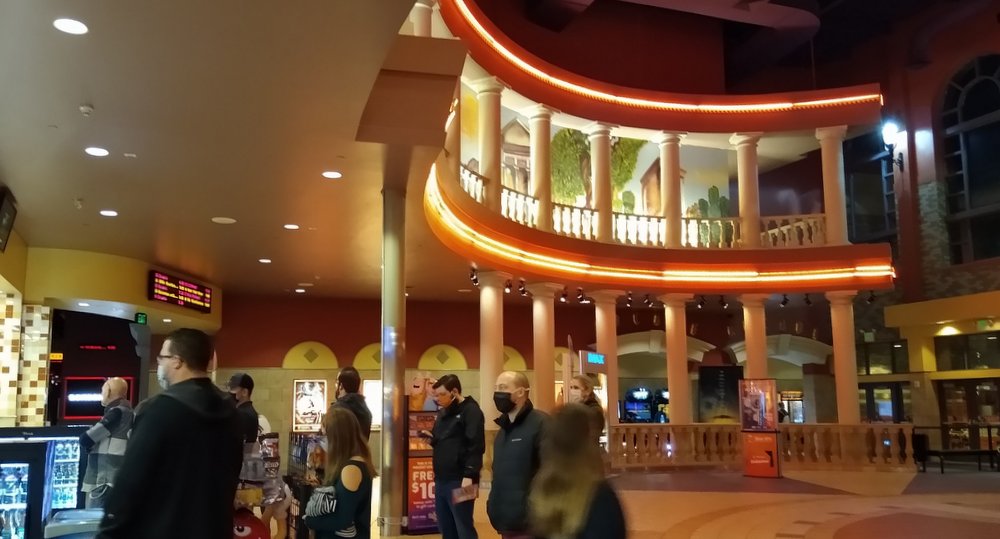 This movie is one that I highly recommend if you can find openings still to see it. It's called Christmas With The Chosen: The Messengers. My friend, Neicy, turned Mark and me on to The Chosen series on YouTube a couple of years ago. It's about the life of Christ as seen through the eyes of the people He chose to surround Himself with. The Chosen isn't your typical 2-hour show covering Christ's ministry and the Passion. This is going to be a 7-year series that gives the back-story to the biblical account and brings it to life. If you want movies about the life of Christ to stick literally to the words in the Bible, this may not be for you. But if, instead, you want to experience the Spirit of the biblical account, this is the best series I have ever seen. The first episode of the first season started with Christ's healing of Mary who had 7 demons cast out of her, mentioned briefly in Luke 8:2. Luke is the only one that mentions her, but The Chosen starts with a whole episode about what happened as envisioned by Dallas Jenkins and his team of writers. There are 8 episodes each year. They are currently working on Season 3.
However, they took a little time out of their schedule to put together this Christmas special shown for the first time in theaters. They had announced a couple of months ago that they were going to do this, and the day the tickets became available, I got tickets for Mark and me to take Mom. The theater originally only offered 1 showing for each of 2 nights, and by the time I ordered tickets for tonight, the whole back part of the theater was full and we had to reserve seats 4 rows from the screen. So many people filled those first 2 nights that the theater started offering more days and times. It's good when theaters find out that really good Christian movies are marketable!
I have come to hate all those Hallmark Christmas movies that say they show the true meaning of Christmas when all they show is family togetherness or gift-giving. This wasn't a movie as one typically thinks of a movie. There was a lot of phenomenal Christmas music sung by current Christian artists interspersed with 4 monologues about the different Hebrew names for God, and there was about a half-hour movie about the nativity and then a reflection back years later by Mary the mother of Jesus in which she shared The Magnificat with Mary Magdalene. I won't give any more about it away. I hope that all of you will either be able to see it in a local theater right now or if it comes out on DVD later. My mother loved it which is really saying something considering how close we were to the screen. It's a wonderful way to start Advent!