One of the Workampers here, Lee, has her son and 2 young grandchildren visiting, so she invited everyone to come with them to the aquarium in Monterey.   Her car was full of family, and Joe and Glenda drive a pickup truck, so we convoyed there with three cars.  (Adam and Beth couldn't make it.)
Lee is a kick!  She was leading and both she and her son had GPS's going.  Their GPS's differed in how to get us there, so a trip that should have taken one hour took two.  That was pretty remarkable considering how fast Lee was driving!  We were in last place and lost the others for a while when we got stopped by a red light, but we finally found them again.
By the time we got there, I only had two hours before I had to head back home to work.  (I'm the only one that works on Wednesdays.)  Lee took her granddaughter and disappeared in the aquarium.  We found out later that even her son and grandson lost her.
Mark and I stuck with Glenda and Joe.  We were hoping to use this time to get to know our other Workampers better, so when we took a break for lunch, I asked Joe and Glenda about themselves.  Joe reminds me a little of Colonel Sanders.  He's from Texas and he wears a cowboy hat like Mark, but he's quite a bit older than us.  He had a heart attack several weeks ago.  He and Glenda have been married about as long as Mark and I have.  They lived 80 miles apart from each other and were introduced by Glenda's sister.  Joe has two sons and a daughter, and Glenda has two sons.  They also have several grandchildren.  Joe is a retired teacher, having taught science (biology and physics) at both the junior high level and the high school level.  By the time we had to leave, Glenda said we ought to get together again sometime after work.  It was the most pleasant part of the whole trip.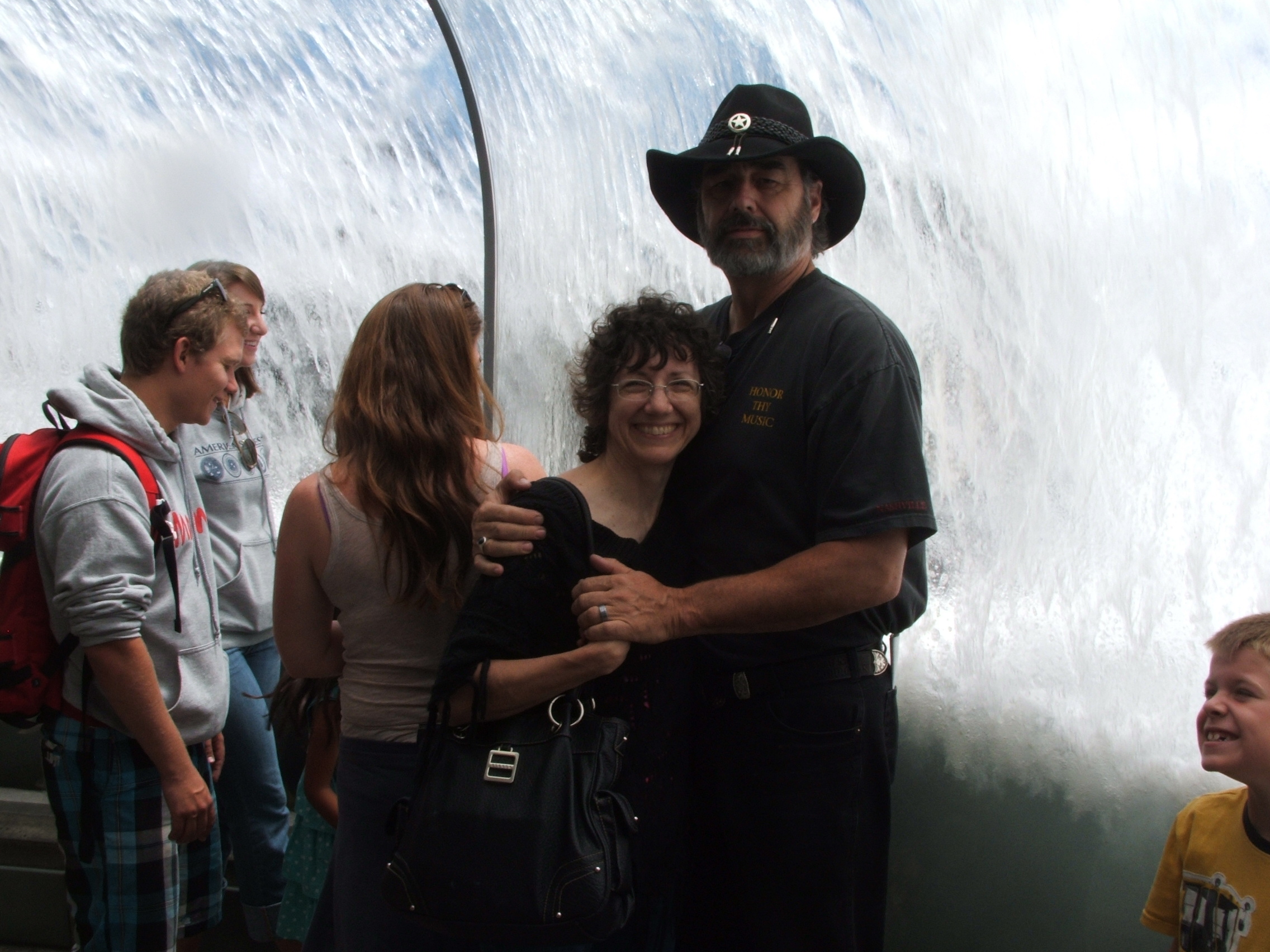 Not to say that the aquarium wasn't impressive.  It's in Cannery Row, which initially intrigued me because of Steinbeck's book.  What I most wanted to see were the jelly fish because I remember going to the aquarium in Newport years ago and being impressed.  I remember them as being large and beautiful.  Although these were varied and beautiful, they weren't as big as I remembered.  Also, it seemed to me that a lot of the aquarium was showing films and large pictures, playing music, and having children's exhibits.  When there were interesting exhibits, like the two divers who were feeding the sharks, I couldn't get anywhere near the window to watch due to the press of people ahead of me.  Also, it was super expensive!  It cost $15 to park, nearly $70 to get in, and over $30 for lunch in the cafe for Mark and me.  (We didn't dare try the restaurant.)
Mark and I both would have liked to explore Cannery Row, but as I say, I was pressed for time.  Cannery Row is full of touristy shops and restaurants now.  I'm not sure if anything remains of the Cannery Row Steinbeck wrote about.  We'll have to go back some time and find out.
When we got home, I went to work and Mark tried to make a repair on our RV but discovered he needed a part.  When I got off work I came in and got on my laptop to check e-mails while I waited for him to return.  My laptop is situated on the dashboard in front of the RV.  I had the curtain open, and all of a sudden I looked up and saw a doe and fawn walking through camp.  They were within 25 feet of me.  I jumped up and looked all over the RV for our camera but couldn't find it.  Mark returned home just as they were fading back into the woods.  Turns out he had the camera in the car!  He says I'll have other opportunities to catch them on camera, and then I'll need to figure out a way to share the picture on here.  We've already taken so many pictures I just haven't been able to transfer off our camera to my laptop.  We'll try to get that worked out.