A couple of weeks ago, my old Brother sewing machine started skipping stitches, so I had Mark take it to a sewing machine repair shop in Green Bay called Ana's Sewing Studio. I also sent along a couple of samples so they could see what my machine was doing. They had a sewing machine expert named Vonnie there when Mark took my machine in, and she looked at my samples and said that my machine wasn't strong enough to do what I wanted it to do. She suggested a bigger machine with a more powerful engine.
Mark led me back to that shop yesterday because I had decided to buy the machine she recommended. It's a Brother PS700 Pacesetter. She spent the entire day giving me lessons on it because she knew I had driven 2 hours to get there. It's an amazing machine! I learned a lot and I was very impressed with it. At the end of the day, I filled out paperwork for financing to get the machine, but my application was denied. Turns out, I had my credit frozen so that no one could do an inquiry without me knowing about it, but I had forgotten about that. Between Vonnie, Mark, and me, we spent most of the afternoon today on the phone trying to get everything squared away. Finally, the last "i" was dotted and the last "t" crossed and Mark went to pick my new machine up before coming home from work.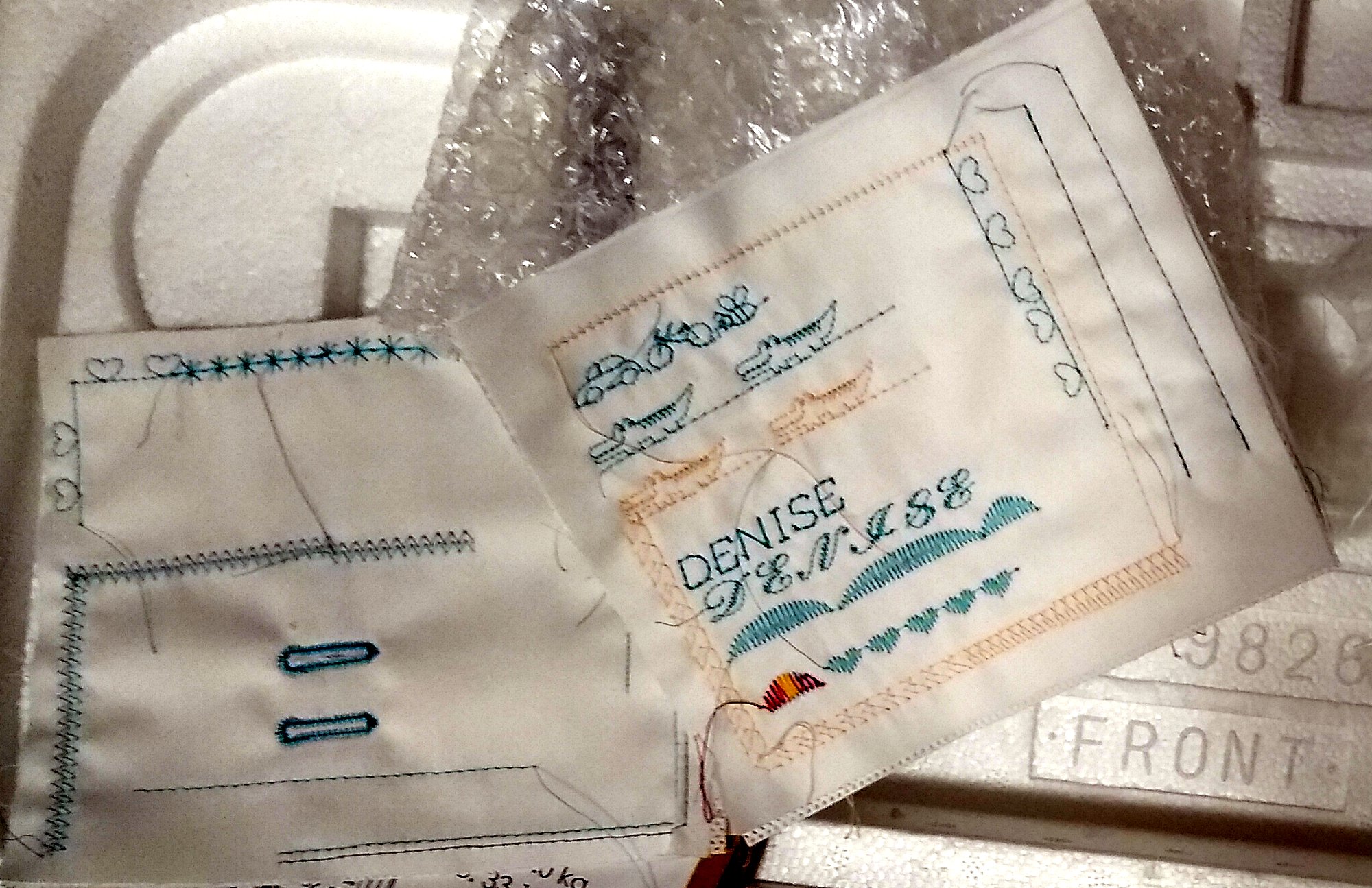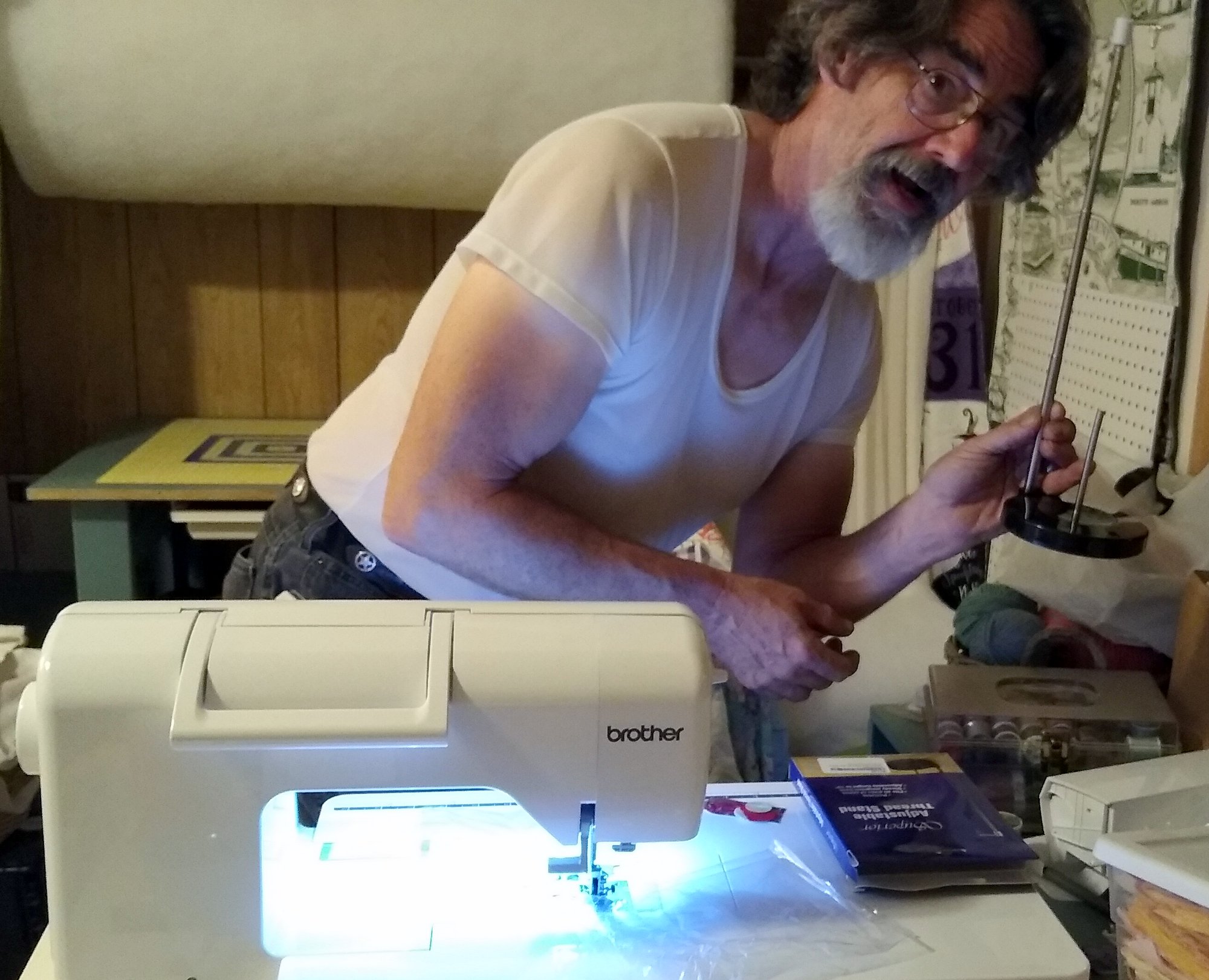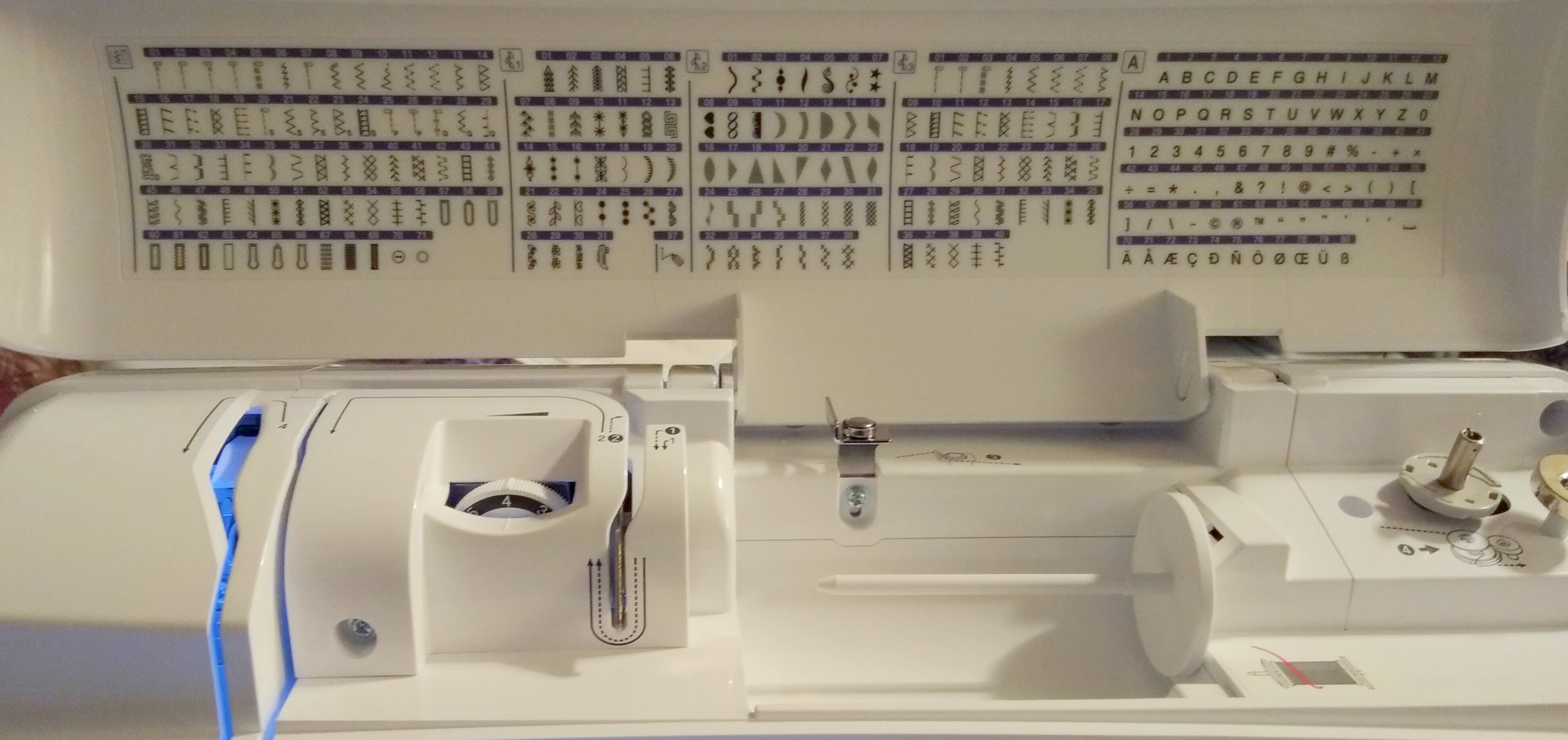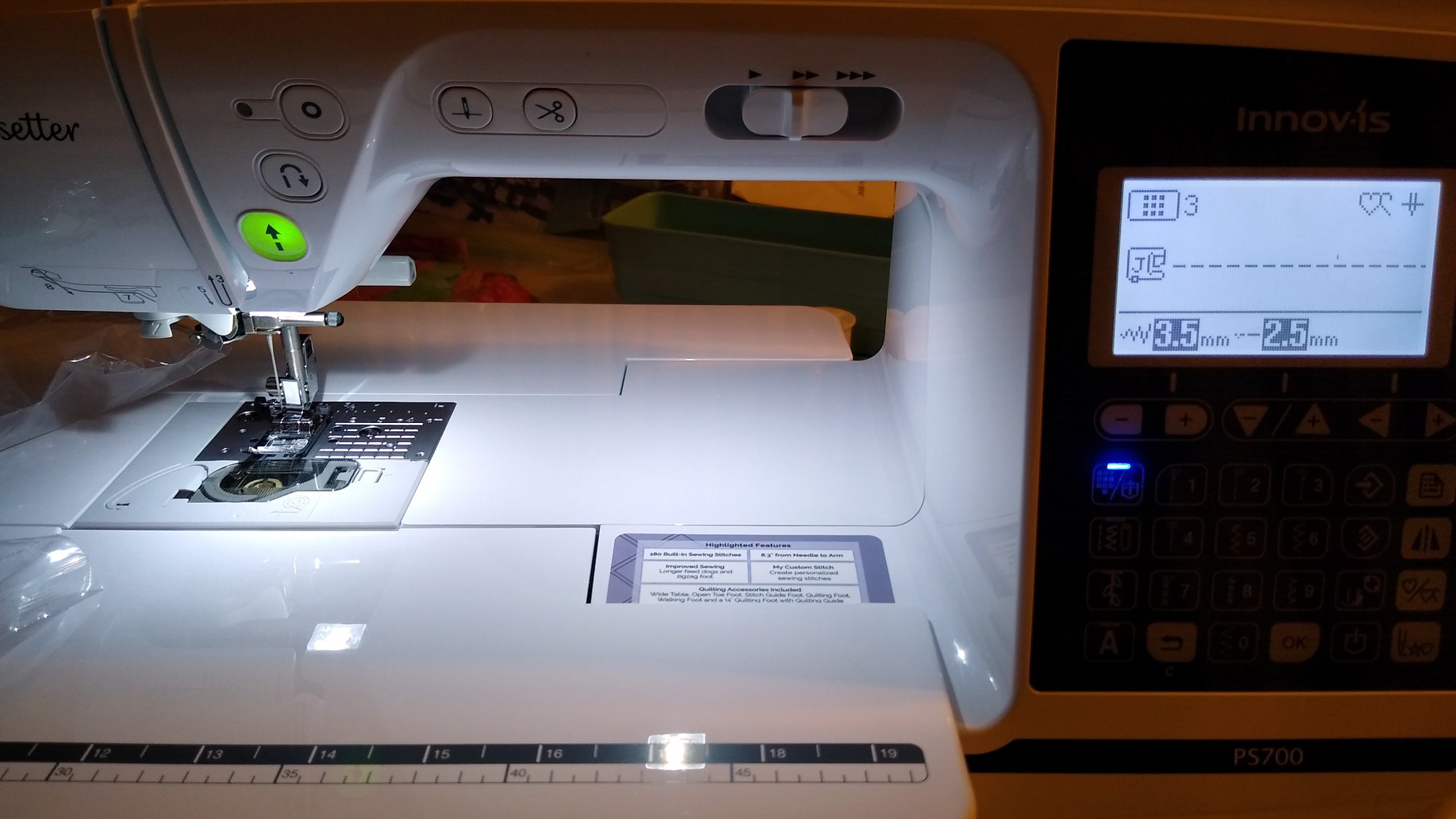 The screen on the right shows me what's happening. Vonnie said that if I'm ever having trouble with the machine, I can call her and tell her what the screen is showing and she can talk me through how to fix it. I don't know if you can see in the shadows at the top of the machine, but I can push a button that will lift the needle if I don't want it to stop with the needle in the fabric. Another button push and the machine cuts my thread for me. There's a button that will do a stitch in place at the beginning and end of a row of stitching to secure it. The big green button is the coolest. I don't have to use a foot peddle; I just press the green button and it starts sewing. I can tell it whether I want it to sew slow, medium, or fast with the switch at the top right. As you can see from the picture with Mark in it, it has a long table and there's also a longer distance between the needle and the arm so I can put a rolled-up quilt through there and sew on it. There's also a knee peddle I can use for temporarily lifting the needle in case I want to reposition something. It does come with a foot peddle if I want a little more control over the speed of my stitches. It has a longer feed dog and the feet are longer so that the fabric will practically keep going straight without me even having to touch it. Oh, and the needle threader! It's so slick! I wrap the thread around a part near the needle and then push a lever and before you can blink an eye, the needle is threaded! My last needle threader was more miss than hit, so this is a complete joy!
As it turned out, my old Brother was inoperable. A piece of thread had gotten tangled around the ball bearings and worn them down. I have a Singer sewing machine that a friend gave me at the beginning of the summer, but when I tried it after mine stopped working, it didn't seem to be doing much better, so I've taken that in to be checked now as a backup. That won't come back for a couple of weeks, so if I hadn't been able to get this new machine, I wouldn't have been able to sew for two weeks and I have so-o-o much sewing I want to do. I thank the Lord that He has blessed me with the ability to get a machine I never thought in my wildest dreams I'd ever be able to own!