Yesterday, the first of our Turkish kids to leave was Aleyna. We don't know if she'll be returning next summer or not. The others took her to the airport in Chicago and she flew back to Istanbul.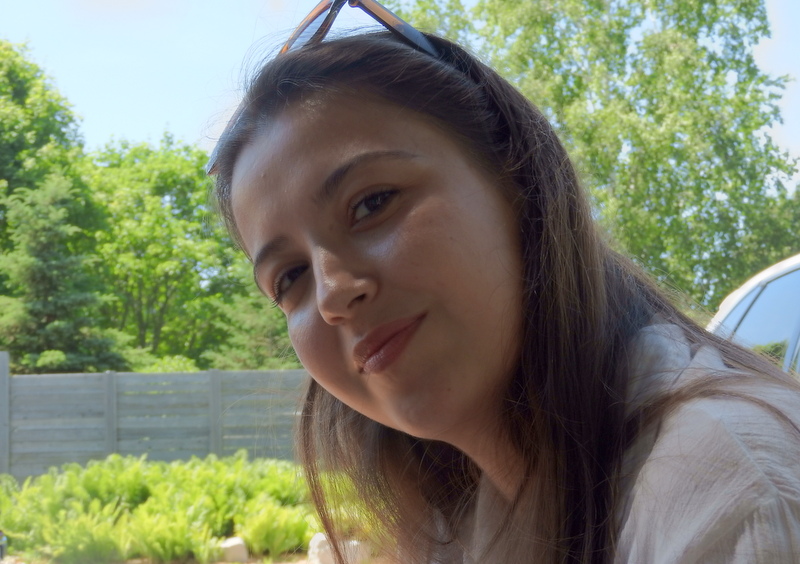 Aleyna took pictures of us as much as we took pictures of her. One evening, she and Kader invited us over to their house to play Uno and drink Turkish coffee. I don't even drink American coffee, but for all the work they put into making the Turkish coffee, I'll drink it for them. They boil the water in a small carafe with a long handle on the stove. They fill a tiny cup halfway up with Turkish coffee grounds and pour the water in there to steep. The coffee grounds stay in the bottom half of the cup like sludge, so you don't drink it all the way down, thank goodness! To my tastes, it's quite bitter and I can only drink it if there's sugar in it and I have chocolate to eat with it!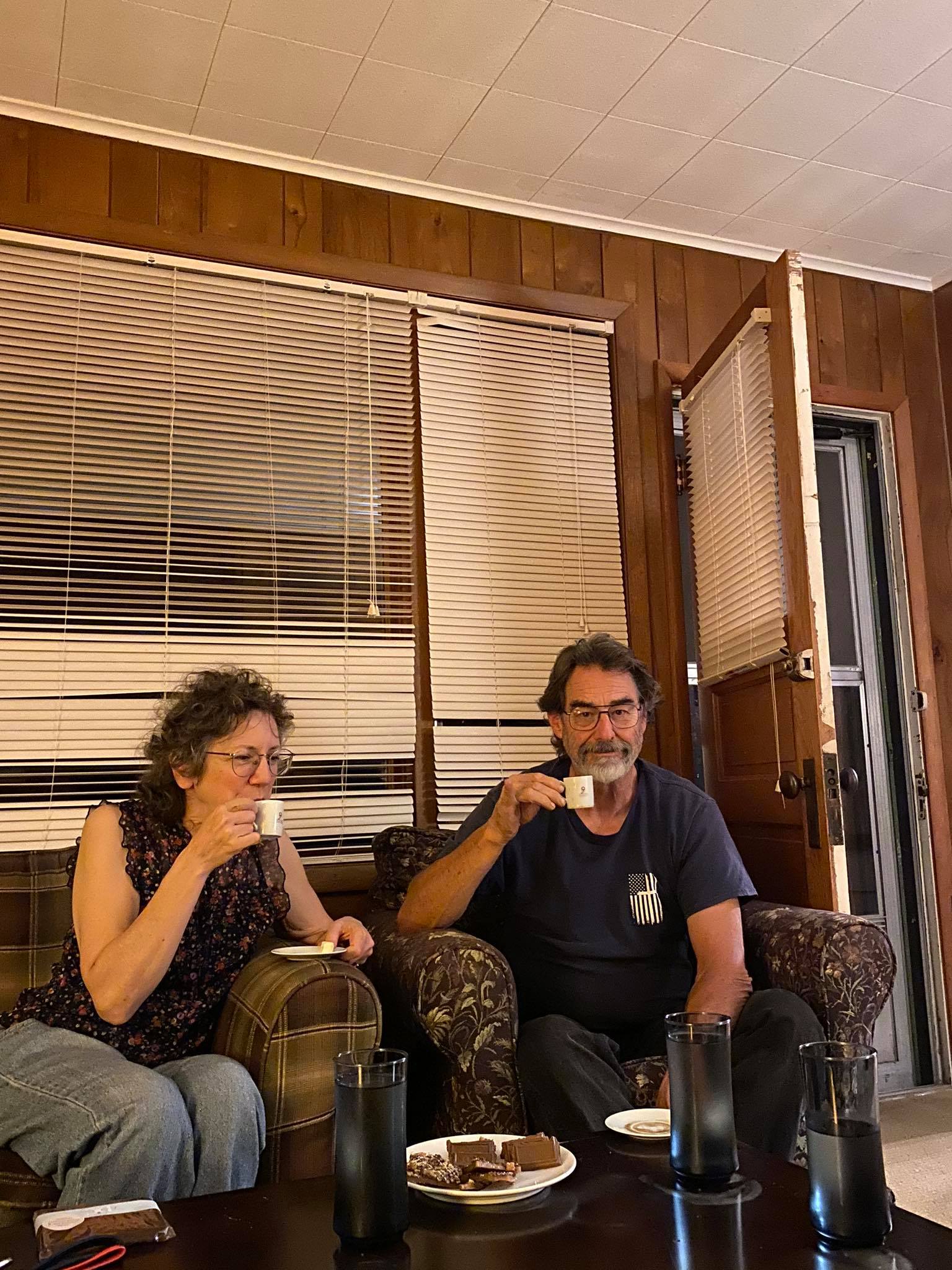 The evening this picture was taken, Aleyna introduced us to a new trick. She said that when our coffee got low enough, we should swirl it around with the plate over the top of it and then quickly flip it over onto the plate. Try clicking on the link below to see a demonstration performed by Mark:
https://www.facebook.com/messenger_media/?thread_id=1229564515&attachment_id=356353002036291&message_id=mid.%24cAAAAAHbvmQV6QNNZYF0D43xTnJfh
Supposedly, Turkish coffee grounds can be read like tea leaves. Aleyna asked us if we'd like to learn about our future, our relationship, our business, or our finances. Then she'd take a picture of our grounds on her phone and it would have some sort of answer to the question we chose. Of course, I don't remember what it said and it doesn't really matter because it was just a game.
Of our other kids, Cha and Lara will be leaving before the end of this month to drive to Colorado where Cha wants to ski and Lara wants him to teach her how to.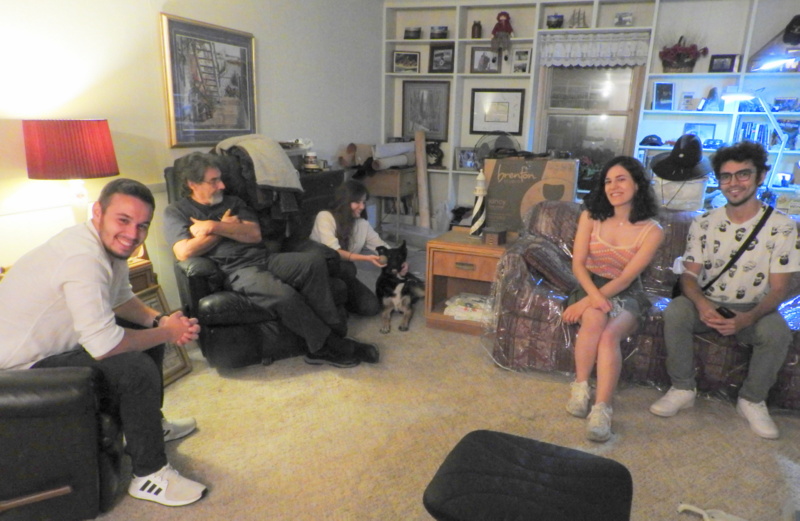 This was the first time we had met Lara and Cha. The picture was taken in happier times for Merih and Kader. Not long after all the kids came to visit us, Kader broke up with Merih. She's heartbroken, but Merih was not good for her.
As it turns out, both Merih and Kader plan to stay in Sister Bay this winter. Kader has all the people from the youth group we got her involved in to support her. I've asked them to be there for her if she needs anything and to keep in touch with her. Merih has some friends he's made this summer to support him. Neither has been through a Wisconsin winter before, so it will be interesting to see how they fare.
One of the things I've been working with Kader on is driving lessons. She never learned in Turkey and doesn't have her license. She has learned that she can take the written test online through New York, and sometime next month, she plans to fly to New York to take the driving test. That's the last place on earth I'd want to take my driving test, but it was going to take way too long for her to be allowed to do it here in Wisconsin. Kader also wants to buy a car so that she won't have to walk or bicycle everywhere in the cold this winter.
All of the Turkish kids who are going to stay in the US this winter want to take English classes offered through a university in New York. Of course, right now, the classes are online, but if they become face-to-face, they'll have to go there to take the classes. However, that isn't going to be happening this year. For Kader, her J-1 visa that allowed her to come and work this summer is going to run out at the end of this month. Then she needs to get a tourist visa that will last for six months. Only then will she be allowed to apply for a student visa and take English classes. In the meantime, she is continuing her studies online through her Turkish university.
It won't be long before we'll be flying the coup too. Mark wants to stay here long enough to vote, but knowing us, it could even be a few days after that before we actually get out of here. We will be heading back to Oregon to spend the holidays with family, such as it is. Our biggest family event of the year used to be on New Year's Eve, but since Sherill died, it just hasn't been the same and my family has lost heart for celebrating anymore. This will be the first year in probably twenty years that we won't be having Christmas on New Year's Eve. Sherill was certainly the life of the party and we all miss her very much.