At lunchtime today, I had a video chat with Cari Josephson from the Alzheimer's Association (AA). She had been given my name after I contacted the Association to make a proposal for a fundraiser for them. As it turns out, they have a fundraiser day on the summer solstice every year where people do something in whatever part of the country they're in to try to raise money for the AA. Cari helped me register to participate and told me that I can do my fundraiser all year if I want, which is what I plan to do.
My proposal is this: Last fall, a woman at my church was talking about a friend of hers, Wanda, who needed to get rid of all her sewing stuff. Wanda had been an avid sewer and crafter for years but she developed dementia and was beginning to forget how to sew. She and her husband decided that they should clean out her sewing room while she still had enough wherewithal to do something about it. When I heard the woman at church talking about the situation, I said I'd be interested in going over and looking for things I could use. I came home with bins and garbage bags full of fabric, thread, and all sorts of sewing and craft-related things.
Among other things, I came home with somewhere around 100 T-shirt pictures. I had been wanting to learn how to make a T-shirt quilt and this was my opportunity. I sorted through all the T-shirt pictures and found a number of replicas and thematic pictures that I thought I could use for making a Block-of-the-Month kit (BOM) for each month of the year. In honor of Wanda, I named the BOM kit Wanda's Journey and decided that I would donate half the proceeds to the AA. Cari was excited about the idea and she helped me set up a page on The Longest Day website – http://act.alz.org/goto/Wandas_Journey. She said they can also help me advertise with their members and they might feature my fundraiser!
If you are able to see YouTube videos, here is a video that Kader helped me make about it last fall: https://www.youtube.com/watch?v=JfkSFzyCjQw. If you can't see the video, here is a still shot from it: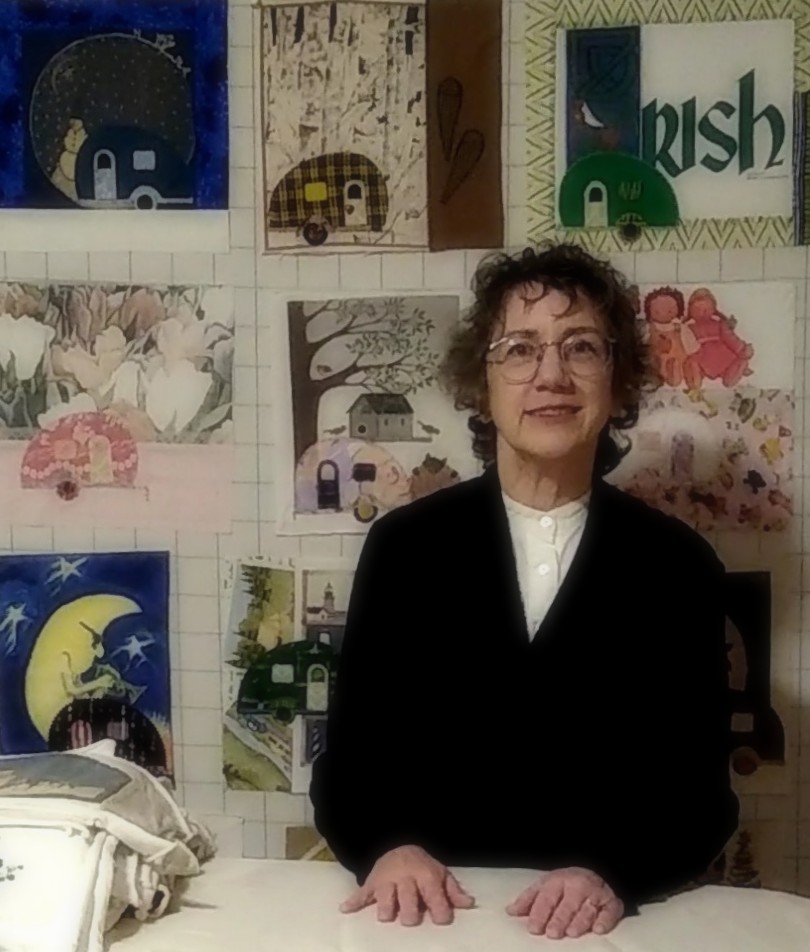 Do you know anyone who likes to quilt or sew? Send them the link to my Longest Day page. Even if you don't sew and don't want to buy one of my kits, you can donate to the Alzheimer's Association on my fundraiser page if you'd like. You can donate and leave a note about the person you wish to honor if you know someone who has Alzheimer's. My goal is to raise somewhere between $100 and $1600 — $100 for every hour of light on the longest day. If you work for a company that does an employer match, when you donate, there is a place to indicate that as well. I found out that my employer, H&R Block, does a company match, so when I sell my kits and donate half the proceeds, I'll be entering their name to increase my donation. Join me in supporting research to end Alzheimer's!